Estimated reading time: 4-5 minutes
OGDEN — The number of road deaths in Utah hit a nearly 20-year high in 2021. Looking at the number of fatal crashes in recent years, KSL-TV found Ogden had more than any other city in the state.
Since January 2018, 1,250 people have died in crashes statewide in Utah, according to data from the Utah Department of Public Safety's Office of Traffic Safety. As of June 17, Salt Lake County had the most deaths with 329, followed by Utah County with 155 and Weber County with 89.
But if you look even closer, city by city, Ogden had 44 fatal crashes over the same period, followed by West Valley City with 33, Salt Lake City with 30 and Provo with 25.
"I am blown away by the disregard for public safety when it comes to just our traffic laws," said Ogden Police Lt. Cameron Stiver.
Stiver is the Field Operations Manager for the Ogden Police Department, he has worked for the department for 22 years and perhaps knows the roads of Ogden better than anyone. He says the high number of fatalities in Ogden is concerning. He can quickly identify the city's deadly hotspots: the multi-lane roads that run through the city.
"Our Wall Avenue, or Washington Boulevard, 12th Street, 30th Street. These big hallways are very busy," he said.
Through a request for open records, KSL-TV examined the time, location and cause of each of the 44 fatal crashes in the city and found that 16 of those fatal crashes occurred on Washington Boulevard, and 13 of them occurred between 1 p.m. and 11 p.m.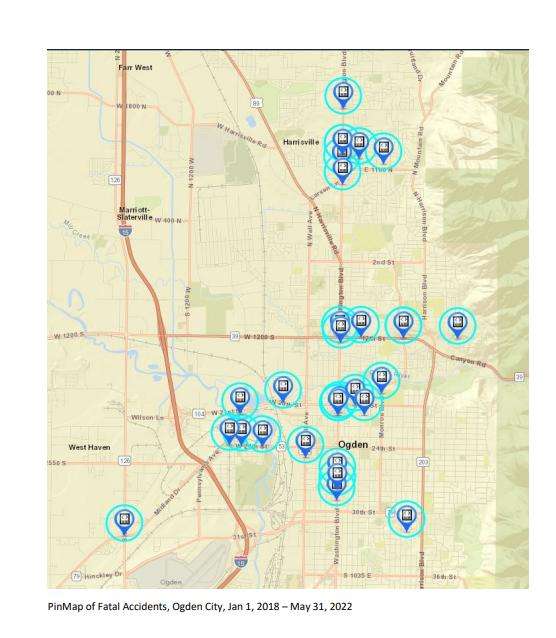 "Our population increases during the day because all the businesses we have here that are operating, and later in the day they all go home," Stiver said.
According to state data, excessive speed was the cause of 17 of Ogden's 44 fatal crashes.
"One thing we've done in this city is we've created a multi-jurisdictional task force, it's an investigation team where we go out and investigate serious and fatal accidents, we try to find out why," Stever said. "Why is it happening, where is it happening, and then we share that with state and city engineers to try to fix our pavement issues. Whether it's a dangerous curve, it's maybe the speed limit is too high."
In addition to speeding in Ogden, drivers were involved in 13 pedestrian fatalities. In the past six months alone, the state has installed two new crosswalks on Wall Avenue near the Ogden Rescue Mission, an area that has seen multiple deaths. The challenge facing Ogden Police now is to get people to use them correctly.
"On Wall, that's where we see a lot of our pedestrian crashes, and the state came in and put in better crosswalks in those areas and we went out and did a special enforcement through the details crosswalk saying, "Hey, this is a new crosswalk, it's different from any crosswalk you've seen because of the flashing red and yellow lights. Be careful, you're supposed to wait," he said.
With the increase in fatal crashes over the past 4 1/2 years, Ogden Police are stepping up speed enforcement on multi-lane roads, using social media to educate the public and reaching out to young drivers through through school resource officers.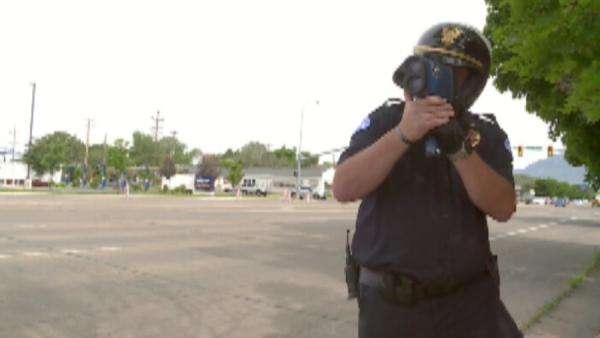 "If I could say to young people, it's just to slow down. Be careful, you're so young, you've got it all, take it easy," Stiver said. "I know you have freedom, but guess what, don't let that freedom be taken away from you by having an accident. Just be careful and slow down."
Keeping the roads safe is a personal mission for Stiver, who has heard every excuse in the book from drivers caught speeding.
"'I have to go to the bathroom', that's huge. 'I'm late for a meeting at church,'" he laughs. "You won't get a free get out of jail card for going to the temple."
While he can appreciate the creativity of the apologies, Stiver says they don't work. What he hopes drivers will remember the next time they feel the urge to speed up is that with every fatal crash, there's a family he needs to tell.
"My worst, worst part of this job is going to someone's house and telling them that a family member has passed away. It's something that stays with you, you'll never forget it. You close eyes and unfortunately these nightmares happen."
After nearly two decades of investigating fatal crashes, Stiver says he has the same thought when walking away from every fatal accident in Ogden: each one was preventable.
"If they had just been wearing their seatbelts, if they had just slowed down, if they weren't drunk driving, if they weren't drunk diving, this could have been avoided, this could have been avoided," he said. .
×
Weber County Latest Stories
More stories that might interest you