BYU winger Spencer Johnson hits the game-winning 3-pointer in the final minute of the Cougars' 60-56 win over Idaho State in the season opener, Monday, Nov. 7, 2022 at the Marriott Center of Provo. (Nate Edwards, Photo BYU)
Estimated reading time: 5-6 minutes
PROVO — To paraphrase Michael Scott quoting Wayne Gretzky, Spencer Johnson only missed 100% of the shots he didn't take on Monday night.
Johnson scored 11 points to go along with eight rebounds, including the go-ahead 3-pointer with 11 seconds left, to help BYU survive its season opener with a 60-56 victory over Idaho State in front of 13,972 fans at the Marriott Center .
Fousseyni Traore added 15 points, 11 rebounds, three assists and a block to lead the Cougars (1-0), who assisted on just nine of 22 baskets made. It's the 10th double-double of Traore's BYU career.
In a game where BYU shot just 3 of 16 from 3-point range and committed 23 of 44 turnovers, the Cougars tied the game at 55 on a pair of free throws from Traore with 26.6 seconds left in regulation.
Johnson hit BYU's third 3-pointer of the game with 11.2 seconds left, a hesitation attempt to give the Cougars a rare second-half lead and help set up Johnson's heroism in the second half time.
Gideon George added 10 points, eight rebounds and two steals for BYU (1-0), including a hit on the Bengals potential jumper in the final seconds that Johnson caught in a rebound and free throws. Traore and Dallin Hall dished out seven of the Cougars' nine assists for a team that scored 23 points on 21 turnovers.
"It wasn't easy there," said Traore, BYU's only player selected to the All-WCC preseason first team. "Tonight was crazy. But like the coach says, you have to find a way to win.
"I think the most important thing about this team is that we are very supportive and want each other to play."
Brock Mackenzie had 15 points, including three 3-pointers, to lead Idaho State; and Miguel Tomley added 10 points. The Bengals shot 40 percent from the field, including 8 of 25 from beyond the arc, to lead for about 15 minutes of the second half.
Picked to finish 12th in the Big Sky after an offseason that saw seven transfers (including former BYU big man Kolby Lee), the Bengals (0-1) came close to toppling the Cougars for the first time since 1977 — and the first time in Provo since 1939 – with a barrage of 3-point shots and a switch defense that forced 22 turnovers.
The Cougars also helped, assisting on just nine of 22 field goals made, seven of which came from Traore and rookie Dallin Hall.
"We struggled offensively all night, and most of that was up to me. But Dallin had a pace that helped us feel like we were in familiar spaces," said BYU coach Mark Pope of Hall, who played for starter Rudi Williams. for most of the final seven minutes and finished with 4 points and four assists. "He felt good and we raced with him all the way down the straight. We have a lot of confidence with everyone on this roster."
In his first start in over 900 days, since his stint at Salt Lake Community College that followed brief stints at Weber State and Utah Valley (official debuts, that is), Johnson refused to let BYU to lose. The game that won it should have gone inside Traore or found a backhand cut, but when the ISU cut that, the 6-foot-5 American Fork junior took matters into his own hands.
"I came back to get it and I was like, 'Look, I haven't shot a 3 every game,'" Johnson told BYUtv. "I had worked really hard, and I know that when I tour I'm going to get there. I was just lucky to get in there.
"I'm super proud of my guys. We weren't going to say die; we weren't going to give up, we weren't going to lose, and we hung on and got the win."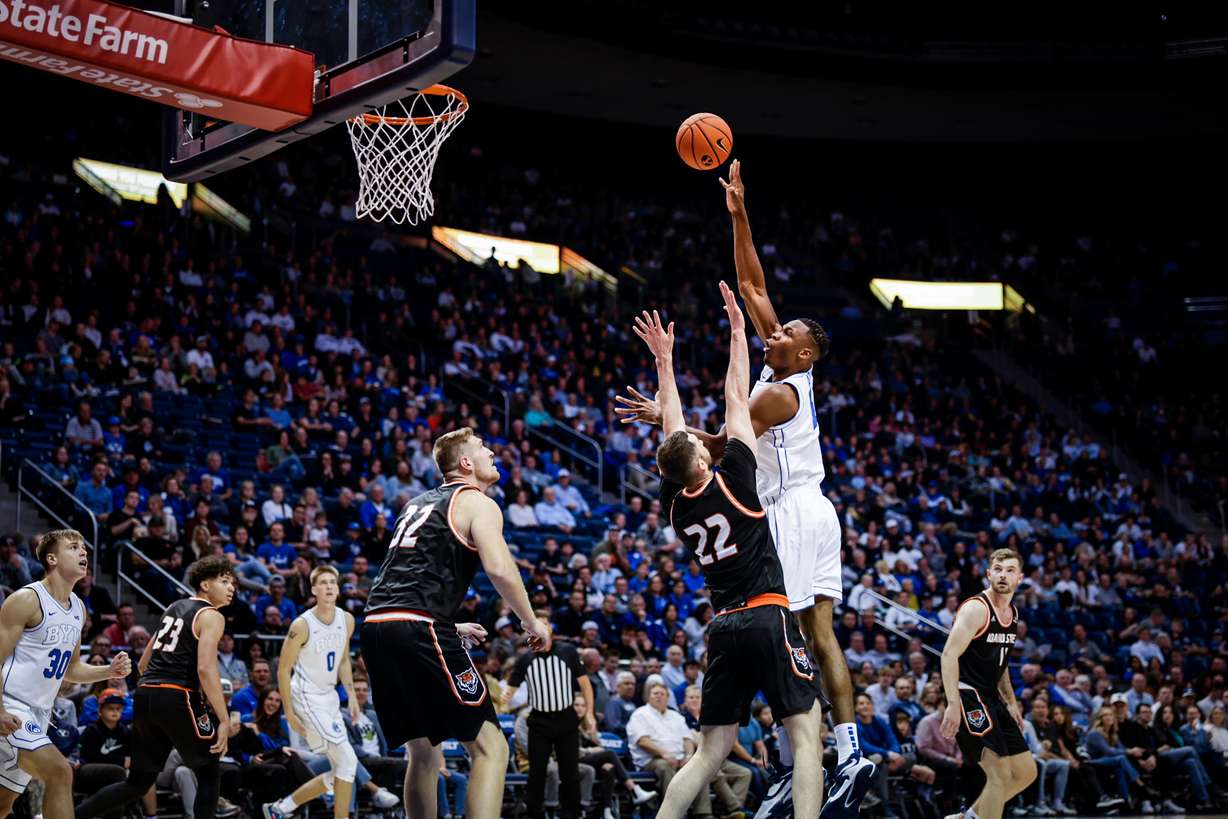 No better teammate either, added Traore.
"It was just crazy," he said. "We needed it. We could see everyone needed it, and he was ready to take it and win us.
"It was one of the best things ever."
Idaho State took its first lead on Mackenzie's fast bucket with 5:24 left in the half, a run that started on the Cougars' ninth turnover of the first half. Williams restored the lead just 33 seconds later with a pair of technical free throws, but BYU limped to a 27-22 first-half lead with back-to-back buckets from Jaxson Robinson and held the Bengals to 35%. gun with 14 turnovers.
The Cougars shot 40% from the field in the first half, but only 1 of 6 from 3-pointers with 11 turnovers, unable to pull away despite 22 points in the paint, 19 points on turnovers and a bench that scored just 4 points.
Idaho State opened the second half on a 13-5 streak, including an 11-1 surge capped by Brock Mackenzie's 3-pointer to give the Bengals a 35-32 advantage five minutes into the half. -time. The Bengals connected on four of their first six 3-pointers of the second half and 7 of 11 total shots immediately after the break.
BYU went on a mini-run during Idaho State's own scoreless streak, five straight misses that the Cougars converted into a 47-45 deficit on Traore's 3-point play with just over seven minutes to play.
Traore tied the game at 53-53 with 59 seconds left.
Never in doubt, said the 6-foot-6 sophomore from Bamako, Mali.
"I think we struggled a lot today. But I feel like we're still getting through it," said Traore, who prepared at Wasatch Academy. "Just keep going. And I think Gideon helps a lot. He's a great leader."
Next, BYU travels to Southern California on Friday to take on former rival Mountain West and 19th-ranked San Diego State. Tipoff is scheduled for 6:30 p.m. MT on the Mountain West network.
×
Pictures
Latest BYU Basketball Stories
More stories that might interest you